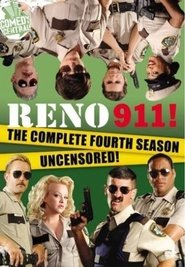 Reno 911! Season 4 Episode 1
In a short resolution to season three's cliffhangers, it turns out that Garcia and Dangle are pulled out of the car safe (and naked), and, unfortunately, the call placed to the prison was a wrong number, so Craig is killed.
Six months later, Wiegel comes back from her "personal leave" pregnant. It turns out that it was not Craig that impregnated her, but rather via a sperm bank that Junior and Dangle may or may not have contributed to.
Also, Carrot Top goes insane in a Harrah's hotel, throwing furniture out of the presidential suite, shooting at people and stealing police cars.
Episode Title: Wiegel's Pregnant
Air Date: 2006-07-09
Year: 2006